Maze Runner: The Scorch Trials
(PG-13)
Rated for extended sequences of violence and action, some thematic elements, substance use and language

Dylan O'Brien, Kaya Scodelario
-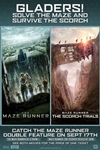 In this next chapter of the epic "Maze Runner" saga, Thomas and his fellow Gladers face their greatest challenge yet: searching for clues about the mysterious and powerful organization known as WCKD. Their journey takes them to the Scorch, a desolate landscape filled with unimaginable obstacles. Teaming up with resistance fighters, the Gladers take on WCKD's vastly superior forces and uncover its shocking plans for them all.
Official Site
Trailer
---
The Intern
(PG-13)
Rated for some suggestive content and brief strong language

Robert De Niro, Anne Hathaway
-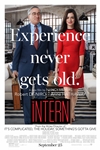 Ben Whittaker, a retired widower in his 70s, answers an advertisement seeking senior interns at a Brooklyn startup and soon finds himself in the middle of a hurricane created by young company chief Jules Ostin, whose online clothing business, which she started in her kitchen a year and a half ago, has taken off and put her in charge of 250 employees. Jules is initially skeptical of bringing an old-timer like Ben into the mix, especially since Jules is juggling her business with a demanding home life that includes husband Matt and daughter Paige. But Ben proves invaluable and wins over Jules with his hard-earned wisdom and compassion, providing Jules with much-needed guidance, as well as a trusty friend, as she navigates life's ups and downs.
Official Site
Trailer
---
The Hunger Games: Mockingjay - Part 2
(PG-13)
Rated for intense sequences of violence and action, and for some thematic material

Jennifer Lawrence, Josh Hutcherson
-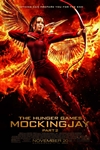 With the nation of Panem in a full scale war, Katniss confronts President Snow in the final showdown. Teamed with a group of her closest friends - including Gale, Finnick, and Peeta - Katniss goes off on a mission with the unit from District 13 as they risk their lives to stage an assassination attempt on President Snow who has become increasingly obsessed with destroying her. The mortal traps, enemies, and moral choices that await Katniss will challenge her more than any arena she faced in The Hunger Games.
Official Site
Trailer
---
The Good Dinosaur
(NR)
Lucas Neff, John Lithgow
-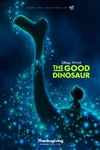 What if the cataclysmic asteroid that forever changed life on Earth actually missed the planet completely and giant dinosaurs never became extinct?
Official Site
Trailer
---
Star Wars: Episode VII - The Force Awakens
()
John Boyega, Daisy Ridley
-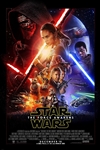 Episode VII in the Star Wars Saga, Star Wars: The Force Awakens, opens in theatres December 18, 2015.
Official Site
Trailer
---