Ferdinand
(PG)
Rated for rude humor, action and some thematic elements

John Cena, Kate McKinnon
- 1 hr. 47 mins.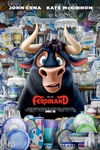 The story of a giant bull with a big heart. After being mistaken for a dangerous beast, he is captured and torn from his home. Determined to return to his family, he rallies a misfit team on the ultimate adventure. Set in Spain, Ferdinand proves you can't judge a bull by its cover.
Official Site
Trailer
---
Star Wars: The Last Jedi
(PG-13)
Rated for sequences of sci-fi action and violence

Daisy Ridley, John Boyega
- 2 hr. 33 mins.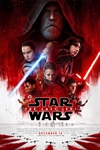 In Lucasfilm's Star Wars: The Last Jedi, the Skywalker saga continues as the heroes of The Force Awakens join the galactic legends in an epic adventure that unlocks age-old mysteries of the Force and shocking revelations of the past.
Official Site
Trailer
---
Jumanji: Welcome to the Jungle
(PG-13)
Rated for adventure action, suggestive content and some language

Dwayne Johnson, Jack Black
-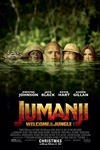 In the brand new adventure Jumanji: Welcome to the Jungle, the tables are turned as four teenagers in detention are sucked into the world of Jumanji. When they discover an old video game console with a game they've never heard of, they are immediately thrust into the game's jungle setting, into the bodies of their avatars, played by Dwayne Johnson, Jack Black, Kevin Hart, and Karen Gillan. What they discover is that you don't just play Jumanji - Jumanji plays you. They'll have to go on the most dangerous adventure of their lives, or they'll be stuck in the game forever...
Official Site
Trailer
---
Pitch Perfect 3
(PG-13)
Rated for crude and sexual content, language and some action

Anna Kendrick, Rebel Wilson
-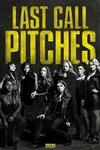 Now graduated from college and out in the real world where it takes more than a cappella to get by, the Bellas return in Pitch Perfect 3. After the highs of winning the World Championships, the Bellas find themselves split apart and discovering there aren't job prospects for making music with your mouth. But when they get the chance to reunite for an overseas USO tour, this group of awesome nerds will come together to make some music, and some questionable decisions, one last time.
Official Site
Trailer
---