Night at the Museum: Secret of the Tomb
(PG)
Rated for mild action, some rude humor and brief language

Ben Stiller, Robin Williams
- 1 hr. 37 mins.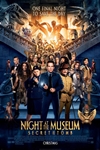 Get ready for the wildest and most adventure-filled Night At the Museum ever as Larry leaves New York City for London, uniting favorite and new characters while embarking on an epic quest to save the magic before it is gone forever.
Official Site
Trailer
---
Exodus: Gods and Kings
(PG-13)
Rated for violence including battle sequences and intense images

Christian Bale, Joel Edgerton
- 2 hr. 22 mins.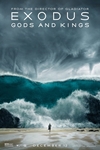 Moses rises up against the Egyptian Pharaoh Ramses, setting 600,000 slaves on a monumental journey of escape from Egypt and its terrifying cycle of deadly plagues.
Official Site
Trailer
---
Penguins of Madagascar
(PG)
Rated for mild action and some rude humor

Tom McGrath, Chris Miller
- 1 hr. 32 mins.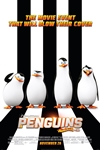 Skipper, Kowalski, Rico and Private now must join forces with the chic spy organization, the North Wind, led by Agent Classified to stop the villainous Dr. Octavius Brine from taking over the world.
Official Site
Trailer
---
The Hunger Games: Mockingjay - Part 1
(PG-13)
Rated for intense sequences of violence and action, some disturbing images and thematic material

Jennifer Lawrence, Josh Hutcherson
- 2 hr. 3 mins.
Katniss Everdeen is in District 13, after she literally shatters the games forever. Under the leadership of President Coin and the advice of her trusted friends, Katniss spreads her wings as she fights to save Peeta and a nation moved by her courage.
Official Site
Trailer
---