Paddington 2
(PG)
Rated for some action and mild rude humor

Hugh Grant, Brendan Gleeson
- 1 hr. 43 mins.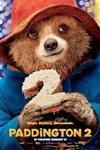 From producer David Heyman (HARRY POTTER, GRAVITY, FANTASTIC BEASTS AND WHERE TO FIND THEM). PADDINGTON 2 finds Paddington happily settled with the Brown family in Windsor Gardens, where he has become a popular member of the community, spreading joy and marmalade wherever he goes. While searching for the perfect present for his beloved Aunt Lucy's 100th birthday, Paddington spots a unique pop-up book in Mr. Gruber's antique shop, and embarks upon a series of odd jobs to buy it. But when the book is stolen, it's up to Paddington and the Browns to unmask the thief.
Official Site
Trailer
---
The Post
(PG-13)
Rated for language and brief war violence

Tom Hanks, Meryl Streep
- 1 hr. 55 mins.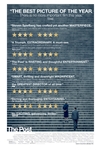 The unlikely partnership between The Washington Post's Katharine Graham, the first female publisher of a major American newspaper, and editor Ben Bradlee, as they race to catch up with The New York Times to expose a massive cover-up of government secrets that spanned three decades and four U.S. Presidents.
Official Site
Trailer
---
The Greatest Showman
(PG)
Rated for thematic elements including a brawl

Hugh Jackman, Zac Efron
- 1 hr. 45 mins.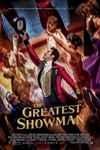 Inspired by the imagination of P.T. Barnum, The Greatest Showman is an original musical that celebrates the birth of show business and tells of a visionary who rose from nothing to create a spectacle that became a worldwide sensation.
Official Site
Trailer
---
Jumanji: Welcome to the Jungle
(PG-13)
Rated for adventure action, suggestive content and some language

Dwayne Johnson, Jack Black
- 1 hr. 58 mins.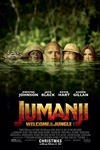 When they discover an old video game console with a game they've never heard of, they are immediately thrust into the game's jungle setting, into the bodies of their avatars. What they discover is that you don't just play Jumanji - Jumanji plays you.
Official Site
Trailer
---
Three Billboards Outside Ebbing, Missouri
(R)
Rated for violence, language throughout, and some sexual references

Frances McDormand, Woody Harrelson
- 1 hr. 55 mins.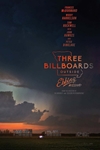 After months have passed without a culprit in her daughter's murder case, Mildred Hayes makes a bold move, painting three signs leading into her town with a controversial message directed at William Willoughby, the town's revered chief of police. When his second-in-command Officer Dixon, an immature mother's boy with a penchant for violence, gets involved, the battle between Mildred and Ebbing's law enforcement is only exacerbated.
Official Site
Trailer
---